The Bank, a boutique luxury top floor duplex apartment in the heart of Newcastle.
We are delighted to offer this beautifully restored two bedroom duplex apartment in this iconic, historic listed building close to the Newcastle Quayside. This apartment boasts two large double bedrooms, one with ensuite, a main bathroom, large open plan living room leading to a fully fitted modern kitchen.
Property Features:
Duplex 2 bed top floor apartment
Large space: 60-65 sq m.
Large full frontal windows - excellent natural light.
Fully sound proofed with new high spec acoustic secondary glazing, sound proof flooring throughout.
New building wide Mechanical Ventilation Heat Recovery System (no need to open windows for fresh air)
New oak effect flooring throughout
New kitchens with granite work tops
Electric radiant heating
43 inch HD smart tv wall mounted with aerial and hard wired to buildings Internet service provider
TVs are HDMI cabled to desk area for your own set top boxes and games consoles
Each apartment cable ready for Sky Television (via separate subscription)
High spec fitted kitchens comprise sink, below counter fridge with small freezer compartment, microwave combination oven, domino (dual) ceramic hob, under cupboard lighting, new washer dryer in each apartment
Security phone entry system to front door.
High quality doors throughout
Full fire alarm system for building
Double bed (with storage below), built in wardrobe, desk/diner table, chair, additional storage created in various spaces in each apartment
New bathrooms shower, toilet, sink and mirror light
Electric towel rail to bathrooms
Array of cafes, restaurants and bars on your doorstep:
Restaurants/Cafes: Browns, Marco Polo, Quay Ingredient, Las Iguanas, 9 Bar Coffee, Pizza Express, Babucho
Bars: Brewdog, Glass Rooms, Livellos, La Vian, Barluga, Living Room, Dacantus
Next to one of Britain's finest architectural streets; Grey Street.
2 minute walk to Newcastle's famous Quayside.
5 minute walk to Central Station main line national station and local metro links.
8 minute walk to Newcastle and Northumbria Universities.
Recently Refurbished
Fully Furnished
Dining Area
Dishwasher
Washing Machine
Tumble Drier
Double Glazing
Laminate Flooring
Leather Sofas
LCD TV
Parking(None available)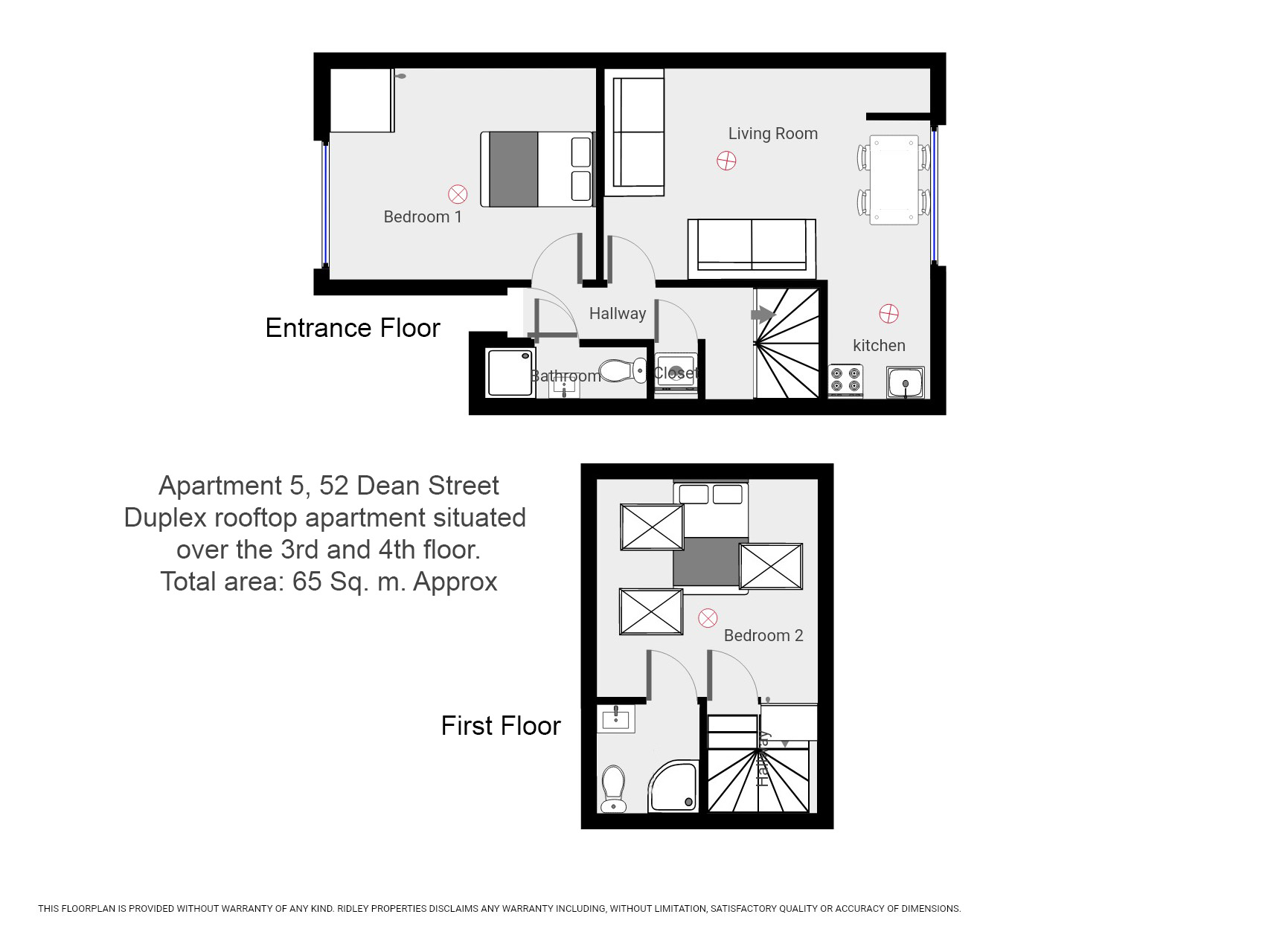 Distance to:

Osborne Road - 1.38 miles
Newcastle University - 0.74 miles
Northumbria University - 0.74 miles
Coachlane Campus - 2.69 miles
Before the Tenancy Starts: (Payable to Ridley Properties 'The Agent'):
Holding Deposit: Equal to one week's rent (inc VAT) per tenant to secure the property.
So long as tenant(s) agree to sign the Tenancy Agreement and complete their paperwork within one week, this holding deposit will be taken as part payment towards the first months rent.
If tenants do not proceed, this fee will be withheld
Advance first month rent:
Equal to one calendar months rent calculated by taking weekly rent amount, multiplied by 52 weeksin a year, divided by 12 months. Any 'Holding Deposit' paid will contribute towards this payment.
Damage Deposit:
Payable just before the Tenancy commences, each property will be subject to different damagedeposits. Some are flat fees, others are calculated based on monthly rental figure rounded up tonearest ten pound value. This will be defined clearly on all property advertising.
DURING YOUR TENANCY (Payable to Ridley Properties 'The Agent'):
Replacement Tenant Fee:Payable fee of £50 (inc VAT) by the vacating tenant for:
Issuing vacating tenant surrender of tenancy agreement forms to sign
Issuing Agreement to replacement tenant forms for remaining tenants to sign
Creating new tenancy agreement and issuing to all tenants to sign
Plus any additional reasonable costs incurred for:
Conducting additional viewingsContract negotiation
Replacement Keys during or at the end of Tenancy when keys are not returned:
Payable fee of £24 per key (inc VAT)
Individual Bedroom Lock (at the request of Tenant):
Payable fee of £60 per lock (inc VAT) (subject to each Landlord) for:
- Purchase of HMO regulation lock with one key and full installation.
Late Rent:
Payable fee of £30 per transaction if rent is more than 14 days late. Payment of interest at a rate of 3% per annum on any late payment of rent commencing from 3 days
the 'due date' of rent.
During Your Tenancy (Payable to the provider) if permitted and applicable:
Utilities:
Gas, Electricity and Water bills
TV Licence:
Where a TV is included, payable fee of cost of TV licence directly to TV licencing.
Council Tax:
Payment of Council Tax to local authority where applicable (Students are exempt from this)
OTHER FEES:
Out of Hours Services £60 per hour (inc VAT) plus any actual costs incurredWhere actions of the tenant results in the agent (or nominated contractor) attending the property,time to remedy the situation is charged at the prevailing rate.
Tenant protection
REDRESS SCHEME
We are registered with The Property Ombudsman: https://www.tpos.co.uk/
CLIENT MONEY PROTECTION
We are part of UKALA who provide us with total loss Client Money Protection.You can find more details about this on their website: https://www.ukala.org.uk/client-money-protection-cmp/
If you require a copy of our certificate please email us.